Nolan LOVES his "Daddy and Nolan Time"! Ever since Heath was born it has been very important to us to have some one on one time with Nolan. And this Sunday was the perfect opportunity for a little Father-Son bonding time at...MONSTER JAM!
Nolan has loved monster trucks for over a year now. Ever since Grandma Inge got him Stone Crusher last year for Christmas. Then the Easter Bunny brought him Grave Digger! And for Christmas this year the Syers fam bought both of the boys about 5 NEW monster trucks! This is when he met his favorite: Monster Mutt! It is so fun to listen to him race them around, crash into other cars, and use his deepest, toughest voice to shout their names!
So needless to say, Nolan was psyched to go to the real live MONSTER JAM with Uncle Wes, Auntie Cara, Payton, Brady, Uncle Tim, Rylan, and his very favorite Daddy!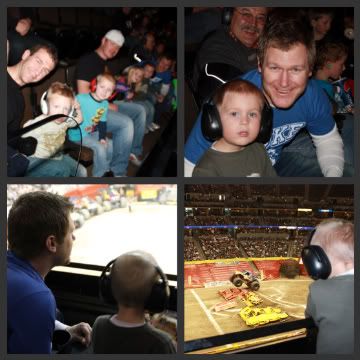 It was SUPER loud so they had to wear headphones! And Nolan sported his cool monster truck shirt that Oma got him for Christmas! Sadly, Monster Mutt was not there, but he still had a blast watching his two original faves: Stone Crusher & Gravedigger!